If you are a forum moderator or a community uploaded then you must have experience in sharing files in multiple host websites. Megaupload is another top free hosting site where people share movies, application, softwares, files and almost anything you want! Just like other free uploading files website, megaupload does have few notable limitations.
To get out of all limitation like parallel downloads, batch download you must have a monthly Megaupload premium account. Having a Premium account in Megaupload benefits a lot, you do not have to download any Megaupload Download Manager or make use of other download managing scripts to download files simultaneously and downloads are instant as well.
So if you are thinking to buy a 1 month premium membership password then you have to send a payment of $ 9.99. You can also buy a Lifetime platinum membership worth $ 199.99 payment. Definitely this is not cheap for some of the guys, also – why to buy a megaupload premium account when you can get this for free! Yes, in this post I will say you how to get a unlimited premium Megaupload account completely free.
You can find many people in forum giving you premium account for cheap price, waiting for megaupload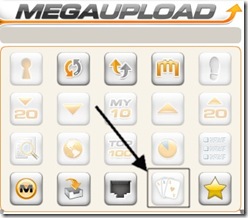 happy hour or some megaupload link generator script which might work some times (rare), this is a trick in which you will be using Slot games to get free Megaupload premium account .
First you have to Sign up for a free membership account in megaupload. Registering an account at megaupload is free. Don't give out your email id, instead use temporary and disposable email service which I have mentioned in the post.
Because, we will be making 10 accounts quickly and easily using those fake email id's which will increase your chances of winning the game and the premium account!
After activating the account using fake id, just visit the Megaupload home page and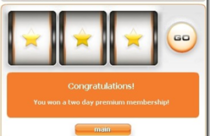 play the game (shown in the picture).
This is a casino type game from Megaupload in which if you're able to achieve a 3 Megaupload symbols at one shot (in the same row) then you will be getting a 1 year premium access.
This is quite easy if you are using 5-10 accounts. Also if you get 3 stars then you will have yourself a 2 day unlimited account access.
So just play the game with your accounts and you will 100% earn yourself a premium account on Megaupload.com! Make sure you follow these steps carefully and try as much as you can till you get the premium account 
Another trick to play unlimited with the same account :
You can play a Megaupload game only 3 times per day with single email ID, so if you want to play unlimited times and maximize the chances of winning the premium account then just Log in to Megaupload as free member. Open 5-10 tabs with Megaupload.com address and now you can play any number of times. If this doesn't work then create temporary email ids.
Update: Seems like the megaupload slot game has been removed!