Samsung grabbed a fair bit of attention with the announcement of the Samsung Galaxy tablet and also entertained us with the tablet commercial. But rooting Android OS devices is something that strikes our attention all the time.
A German android group that goes by the name Sera-Apps.de, not only managed to get the Galaxy tablet a month before its official release but also rooted the device right away.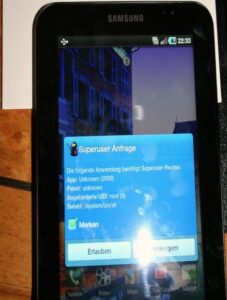 As pointed out by PCWorld – not much has been revealed about the rooting process, but it'd be interesting to see if Samsung Galaxy tab can get a stock ROM installed on it, perhaps something like CyanogenMod 6.0?
Now that Samsung Galaxy tablet has been rooted successfully, the absurd pricing for the device seems to be justified. But then, Samsung may patch up the loopholes before making the product publicly available in US and UK. In anyway, this is an encouraging sign for the Android enthusiasts and those who are looking forward to buy the Galaxy tablet.