Reddit, owned by Conde Nast (who also happens to own Ars Technica and Wired.com), is one of the popular social news website on the internet. So, if you are an avowed lurker at Reddit, like me, then an app for your iOS device can be helpful to budge through the popular /r sections wherever you go.
iReddit is the official Reddit app for the iPhone, iPad and the iPod touch, and is fairly good at what it does. However, the frequent crashes, freezing, and no support for the app can be disappointing. Perhaps, that's where the unofficial Reddit app comes into play.
The app is "Alien blue," which is free to download and works with the 3.x and the new iOS 4.0+ firmware. What makes this app better than the official is, of course, the easy to use interface and navigation available at the tap of a button. The main page is nifty, well organized with theme selection feature and added support for multiple user login is enough to jolt the Redditors.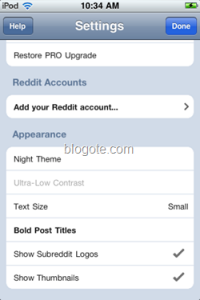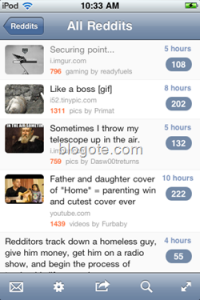 Alien blue app lets you select different themes by changing the appearance, allows you to tweak the settings, upvote (umm… downvote) posts and edit the comments. In short: Alien blue culminates into an impressive app that turns out to be much better than the iReddit.
So, if you are intrigued by this short review, then check out the app (I am not affiliated with Alien blue) by visiting the iTunes page, or searching for "Alien blue" right from your Apple device. Yes, they do have a Pro version, but the free one does the job, actually a very good job!
Edit: Thanks for the love, Reddit! 
 And yes, for those of you who are using iPad, Alien blue isn't free to download, but it is totally worth it ($1.99).