It has not been long since all Google Voice and related apps were banned from the App Store. But now, that embargo seems to have been lifted, because Apple has just approved an app called GV Connect which is a native Google Voice app for the iPhone.
This move comes as a surprise and particularly because earlier Apple did not hesitate to pull the plug on popular apps such as GV Mobile and VoiceCentral and even refused to clear the official Google app. If you remember correctly, this had created a lot of controversy. Moreover, only last month Google had issued a statement saying that there was no hope for the native app on the iPhone, but how things have turned out!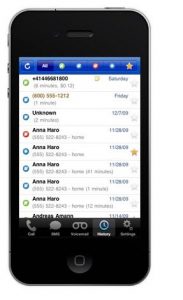 Now that GV Connect is available for the iPhone, it may not be too long before previously banned apps such as GV Mobile+ make their way back to the app store.
Features of GV Connect app
With the GV Connect app (that costs only $2.99!) you can everything there is to do with a native iPhone app, bar push notifications. You can place calls using Google Voice number rather than your mobile number, as well as send and receive text messages using that number.
Listen to voicemail messages and recorded conversations with the ability to pause, rewind and forward to any part of the message. You can also search within your contacts and history, messages and notes. All messages will be stored on your device for later access.
The app also allows you to change various Google Voice settings and gives direct access to contacts on your device without having to sync them with Google. As an added advantage, all information is processed via Google Voice website and your account information is not revealed to a third party.
The app is optimized for iOS4 and includes fast app switching and high resolution graphics for the new retina display in iPhone 4.
So, you can clearly understand the advantage that this app has over web apps such as VoiceCentral. Masked calling, like push notifications, is not available now, but nevertheless, this represents a reason not to jailbreak your iPhone, for using Google Voice apps from Cydia. You can now perhaps rely on Google Voice as a primary number for communication from your iPhone.
If Apple does actually keep bringing back these useful apps, you have every reason to be happy! So let's wait for GV Mobile and an official Google Voice app.