Box.net the cloud storage and collaboration platform has recently updated its iPad and iPhone app for iOS4. This means that you now get support for downloading Cloud documents offline and processing them in iOS4 background.
The update is yet to find its way to the App Store, but when that happens (which is very soon) you will be able to find it much easier to get things done and stay on schedule, whether you are online or not!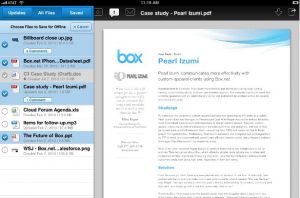 But Box.net is doing more than just this. If you may remember, apart from creating virtual folders – the Box.net app was one of the few business apps which were compatible with the Apple iPad, when the device became commercially available. And to gain a greater understanding of how businesses use the app and the iPad, Box.net is doing real-world research with the help of D7 Consulting.
And it is because of inputs from D7 that the latest step of providing offline access to Cloud documents has been taken. While offline access may not be too much of a big deal with mobile phones, for a Wi-Fi only device it is a real problem at times, when there is no hotspot available. For example, when you are in an airplane or in the subway, the need for offline access is felt more than anything else.
Other file documentation services can also help you work offline, but very few can actually help in solving problems which may arise in working with shared documents. This is because during the time that you download a document off Cloud and then try to access it offline, changes may have been made to document thereby making updated offline access impossible.
But with this new Box.net app for iPhone and iPad – you can make changes on your end, which will then be integrated into the original document as soon as any internet connection is established with the cloud server.
For the iOS4 this app has also brought in some new features to improve overall user experience. You can upload or download documents in the background and switch faster between apps. The resolution of graphics displays has also been improved.
Box.net is also trying hard to cater to users – both mobile and desktop. This is why file caching has been improved to reduce preview times and also make it a less cumbersome task to access folders with a large number of documents. The app is free to download and there may also be an Android version soon enough!