After lots of speculation the good news has finally arrived- both for Netflix lovers as well as owners of the iPhone and iPod Touch. Yes, you guessed it right, the Netflix app service is now available on both these devices! Watching streaming movies and your favorite TV shows on the go has just become a whole lot easier.
The fact that iPad supported Netflix right from the time the device was launched gave rise to discontentment as well as hope that other Apple devices would soon have the service too. And now you can download the Netflix app on your iPhone or iPod Touch and it works fine on both 3G plus Wi-Fi, despite AT&T's reluctance to let some streaming apps work on 3G (Slingbox is a good example of that).
Apps such as Netflix should be good business for AT&T because its unlimited data plans have fewer takers these days.
Getting back to the Netflix app, the iPhone version supports fast-forward and rewind functions and also provides top-notch video quality. Usual features of Netflix, such as resuming where you stop a movie are available too. Moreover, if you start watching a movie on Netflix on your PC and pause it, you can resume watching it on your iPhone and iPod touch!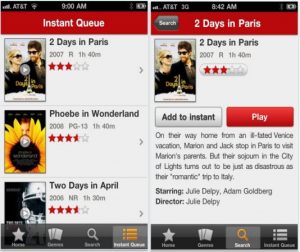 And even better news is that all versions of iOS from 3.1.3 upwards are supported and so, it's not necessary for you to have the latest iOS 4.0.2 on your Apple device. Installation is quick, but make sure to reboot your device to make the app work smoothly.
The only drawback as far as the iPhone Netflix app is concerned is that you cannot manage your streaming queue, except for deleting items. Moreover, you have no access whatsoever to your disc queue.
But other than that this app should be a lot of fun for you, if you are a Netflix fan. Even if you are not, maybe now you have the chance to try one of the best streaming apps out there. And your iPhone and iTouch definitely becomes more entertaining with this!
Download Netflix from iTunes Store by clicking here!