Last Updated on July 15, 2021 by Sara Taylor
Track Lost iPhone's Current Location using iCloud
We all have spent a good deal of money to purchase our new iPhones and iPads. These iOS devices can certainly do some amazing things, but have you really given a thought on how to protect these precious devices? What will you do if you lose your iPhone in your office or college? What does it take to find a misplaced iPhone? How easy is it to recover a lost iPhone?
Instead of going around in circles, filing a complaint, searching each and every room of your house, or asking people about your "lost" iPhone, you'd be better off using tracking services. These tracking services will reveal the exact location of your iOS devices, making it easier to know if the device was stolen or lost (there's a big difference between the two).
Using Apple's help for Tracking an iPhone
A free, and highly recommended, tracking service comes from Apple — it's called Find My iPhone. Find My iPhone tracks any Apple product —MacBook, iPad, iPhone, etc. Even if your iPhone is stolen, and the Internet connection is switched on, you can know the device's location in real-time.
Activating Find My iPhone on iPhone 4S/4, iPad & iPod Touch
Step 1: Log in to iCloud
Visit iCloud.com from your browser and enter your Apple ID and password.

Step 2: Use Find My iPhone
Click on "Find My iPhone" icon.

Step 3: Find iPhone's location
You will know the exact location of your iPhone automatically.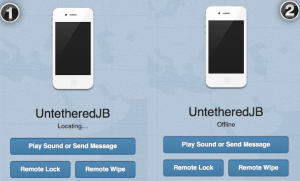 You can also do the following:
Play Sound or send message: If your iPhone is misplaced, send an SMS and someone may get in touch with you. You can also play a sound.

Remote Lock: Clicking on this button will lock your iPhone permanently. No one can access your device.
Remote Wipe: Delete all the data from your iPhone in a one click.
Note: Find My iPhone works only when:
You have already signed into iCloud from your iPhone.
You have enabled Find My iPhone on your iPhone.
You have switched on Location Services on your iPhone.
iPhone is offline: What does this mean?
From the above screenshot in Step 3, you will notice my iPhone cannot be tracked through Find My iPhone. The message appearing under my white iPhone 4S says "Offline." In other words, my iPhone was switched off while I was writing this tutorial. However, you must know that Find My iPhone will not work when:
Your iPhone is stolen and the Location Service is turned off.
Your iPhone is stolen and someone has signed out of iCloud
Your iPhone is stolen and Find My iPhone is disabled.
Your iPhone is stolen and someone did a factory reset on your iPhone.
Receive an email when your iPhone is found:
Check the box "email me when this iPhone is found." This can help you trace your iPhone's location when the device is turned on.

Conclusion:
While there are numerous ways to track a lost or stolen iPhone, Find My iPhone should be your first choice for several reasons a) it's free b) it works. My only gripe is, if you have not enabled it already on your iPhone, the service is almost useless.
But if you have used Find My iPhone before, and it's already activated on your iOS device, this invaluable tracking service can save your day.