What if you could control the screen of iPod touch and iPhone right from your computer screen? That's cool, right? Well, Veency makes it possible over an WIFI connection.
Veency is a free tool to gain remote control access over your iPhone and iPod touch. However, only jailbroken iPhone and iPod touch devices can access this app — as it is a product from Jay Freeman, the creator of Cydia.
Once the screen shows up on Windows, you can use the mouse cursor and keyboard to switch to other apps, write notes and longer text messages.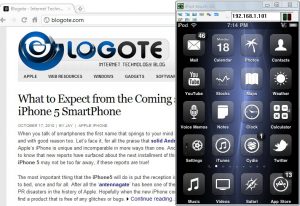 How to Download Veency?
Fire up your Cydia from your iPhone, iPod touch screen and go to the Search section. Type in veency and download the file. Restart springboard.
Now to show the iPhone screen on your Windows, download TigthVNC or UltraVNC. Both are available for free download, but I'd recommend UltraVNC (download). Set up UltraVNC on your PC and add the IP address to connect.
Veency works on iPhone4, iPhone 3GS, iPhone 3G, iPod touch 2G and iPod touch 3G etc.