One of the popular music streaming website: Grooveshark is out, revamped with a new interface, on the mush faster HTML5 engine. Go ahead and check out the all new Grooveshark website.
In the new design, the Grooveshark VIP features are still in fact — it's just a few changes and the switch from Flash to HTML5 that Grooveshark has gone with thus far.
However, not all the elements on the Grooveshark website works on the HTML5 standard. It is only the interface that has gone through the changes — the music playback still calls for the Flash element. Sure, HTML 5 is awesome, but there's no point in having an HTML5 interface and music that streams only if Flash is installed, right?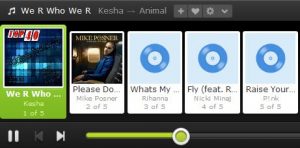 No Grooveshark App For iPhone, iPod touch and iPad
The overhauled Grooveshark interface loads faster, but it doesn't excite the iOS crowd. And ever since the Grooveshark app was pulled from the Apple store, the only way to stream music — using the the Grooveshark app — is to jailbreak your iPhone, iPod touch and iPad.
I tried accessing the Grooveshark website from the Safari browser on my iPod touch just to know that it redirects to the mobile grooveshark webpage — blocking me from accessing the front end of the site. The bold headline: 'Coming soon for iPhone' has been there for a very long time now. Let's hope that a complete HTML5 makeover is in works!