Assuming that you have a backup of Lion's InstallESD.dmg disk image on your desktop, creating a OS X Lion installation DVD out of this disk image file is really a piece of cake.
Before we begin with the procedure, make sure that the empty DVD or USB flash drive — yes, you can even use USB flash drives — has at least 4GB of free space.
To make a Lion installation DVD, which is bootable, we will use Apple's Disk Utility tool. Follow the steps given below, and don't hesitate to leave your comments if you need any help.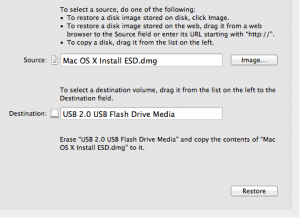 Steps to Create a Mac OSX Lion DVD
Insert the blank DVD into your Mac.
Launch Disk Utility — Go to the Applications folder, head over to Utility folder to locate the Disk Utility program.
Drag the .dmg disk image to the left-hand sidebar of Disk Utility. Highlight this file.
Click on Restore tab (there are two tabs: First Aid and Restore).
Drag the .dmg file to Source, and the Destination is your empty DVD (or flash drive) as shown in the screenshot above, although I have used USB flash drive.
Click on Burn, if you want to burn the disk image file to the DVD. For those of you using the USB flash drive, clicking on Restore button will create a bootable OS X Lion.
That's it! You are all set — you have a bootable Lion DVD!
Next time when you boot up your Mac, hold down the Option key, while making sure that the Lion DVD is already inserted into the Mac's drive. A screen will appear asking you to choose the volume that you'd like the system to boot from.
Click on the Lion-installed DVD to begin installing OS X Lion on your Mac computer.