If you are looking for a camera that has some notable and some not so very notable features at a price you would consider affordable for a digital photo device, then the Sony Cyber-shot DSC-W370 is just what you might have an interest to.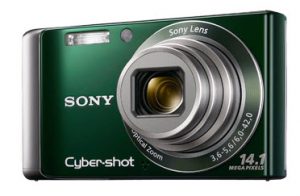 This camera from Sony is decent enough considering it has specifications of
14.1 mega pixels resolution
Large zoom capability by its optical lens that can be zoomed up to seven times from 34 millimeters to 238 millimeters
LCD screen measured at three inches
Video recording abilities of up to 720 pixels
Available colors are silver, green and red
Has dimensions of 4 x 2.25 x 1.06 ( all in inches)
Total  weight of 6.3ounces  including the battery pack and one memory card (Sd or SDHC cards or sticks)
Our review of Sony Cyber Shot DSC W370 Camera
Because the DSC-W370 has a quite bigger lens for zooming, you may find that it's a little difficult to use for point and shoot instances. And even for some night gimmicks, this cam is sure too large to fit in your pockets.
But what's amazing about this large cam is the quality of images it produces. When I set the gadget at 3200, the highest possible setting, I noticed some little grains appearing but the colors appeared quite realistic. But in general, all of the pictures I have taken were truly clear. Several ingenious and nifty features are also in this camera. Cost: $230.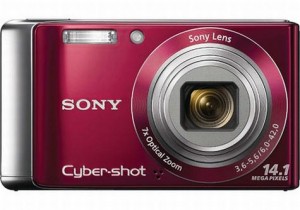 Complete with a mode called Sweep Panorama that allows any user to take 243-degree panoramic shots. It also has a self-portrait timer feature that is useful for pictures that you want to put in social networking sites.
I just found one drawback about the mediocre Sony DSC-W370. The lag time of this camera surely annoyed me. The shutter lags for roughly two seconds when used for single shots and a much longer time in between multiple shots, not only that, but there is also a delay when the button is pressed after I took a shot. What makes it worse is that I have to press twice as one press would not register a particular scene and therefore may not be recommended for taking pictures of events that happen quickly. You may also not love this camera if you wish to review your current shot after you took it.