You may have always wanted notifications from your Android phone to be available on your desktop or laptop. Well, now you can get all the information about calls, texts, and even low battery alerts while working on your computer, thanks to a new open source mobile app named 'Android Notifier'.
This app works by linking the notification systems on your mobile and computer. Though it is only available for Mac now (as per the developer) you can use an extension code for the desktop and Linux, which is already available.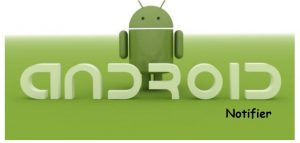 The webpage for this app is hosted by Google Code (link). In case you are wondering whether this app will be useful for you, just think of the several scenarios where you miss an important call because you are working on your computer, wearing headphones while the phone is in the silent mode.
Why use the Android Notifier
With this useful Android app you get to know the number from which the call is coming in, and can then choose to receive it or ignore it according to the importance you attach to it. The same works for SMS, MMS and voicemail messages.
You can connect the desktop app to the phone, via Bluetooth and Wi-Fi for now, while USB connectivity will be available in future. To use the Bluetooth function, you must have Android 2.0 or higher on your phone. Older phones may not work.
Installation via Bluetooth or Wi-Fi requires you to download the app from the Android Market. For Bluetooth installations you must ensure that your desktop is paired with your phone, while a Wi-Fi installation will require your desktop and phone to be on the same network. Then you only need to enable Wi-Fi or Bluetooth notifications on the app, to start receiving updates from the phone to your computer.
As mentioned before, there is another program which allows Windows and Linux users to access this app. This program has even got 32/64 bit options! You will require Java 6 for this to work.
If you use a Windows based PC or laptop, you can even use another simple Windows application which utilizes the Microsoft Winsock Component. Place the .ocx file in your WindowsSystem 32 folder and you can sync your PC with the Android phone you have. Connect to your wireless network with the phone, and link up with the PC by typing in the IP address of the PC. You can start getting SMS and call notifications soon.