Apart from the rich touchscreen, calling and camera features — Android Phones, for the most of us, are our note takers these days.
And the ones that have an Android smartphone to boot are so much better off at this as they can use many available apps to take notes on-the-go. Let's take a look at some of the apps that are available for note taking at the Android marketplace.
Best Note Taking Apps For Android Phones
1) Note Everything Pro – This app not only allows you to take down standard text notes, but also lets you record voice notes and has an option of 'painting' a note too which lets you scribble on the screen and whatever you scribble is saved as a note.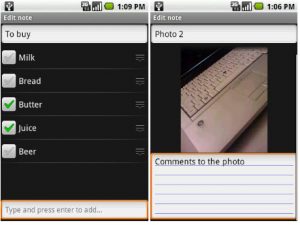 The standard version comes with shortcuts and folders but if you opt for the Pro version you get reminders, photo notes, checklists and the ability to stick notes in the status bar. The app also lets you sync your notes to Google Docs which is very useful. The standard version is free but the Pro will cost you $4.50. Expensive for a note taking app, but it's worth it.
2) Evernote – This app is an immensely powerful note taking app as it lets you jot down notes, take pictures and set them as reminders, record audio notes and upload files that you want to remember. The interface is clean and the app syncs to your online Evernote account and keeps your notes stored there.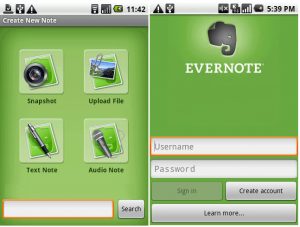 The downside is this only that the notes aren't stored locally on your phone and that ypu have to access your Evernote account everytime you want to see your notes. The upside? It's free!
3) AK Notepad – Plenty of note apps exist with snazzy features and interfaces, but the beauty of this app lies in its simplicity. Taking down test notes is super easy and the yellow notepad appearance is very nice. You just jot down what you need to.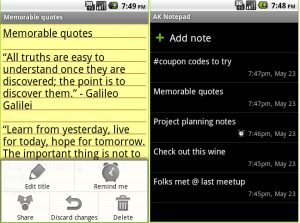 Additional functionality includes the ability to tag notes for quicker searching, pinning notes to your home screen and setting a reminder to a note. This app too is free.
4) GDocs – Google Docs' Android app works well in the sense that it provides a basic note taking interface and gives you the ability to edit and sync documents from your Google Docs account.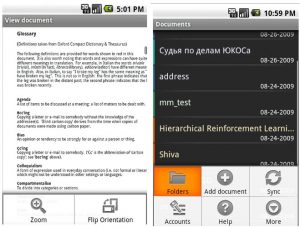 GDocs lets you create, import/export and send documents. However it works only with text files. GDocs for Android is a free app.
5) SpringPad – This app comes with a lot of note taking features and features all the bells and whistles. The interface is very intuitive and fun to use.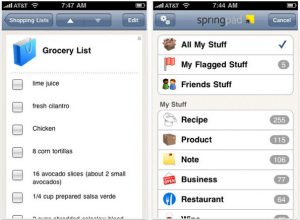 It also comes with a widget so makes note taking even more simpler. It is also a free app.
So these are the best note taking apps for Android. Get hold of one and start taking notes today!