You have a laptop and you want to browse the Internet for free? Then start looking for free WiFi hotspots in your nearest cafes and restaurants. You can do this right from the comfort of your place using this free software called Boingo.
Boingo is a free app for Mac OS users (also available for Windows computer and on both iOS and Android mobile OS) that helps you connect to WiFi hotspots and also provides free VPN to make sure the connection is secure. The program automatically scans for free hotspot locations, and once it finds a strong Wi-Fi signal, you'll see a pop-up notice asking if you want to connect.
The program has a Secure Me! feature that utilizes a Virtual Private Network (VPN) that will encrypt the open WiFi connection to keep your data safe and sound from hackers.
Installation & Usage
Once you have downloaded and installed Boingo (download link below) on your computer, you will be asked to register an account. There is a paid membership, although the free one should suffice for those who want to connect to free WiFi hotspots.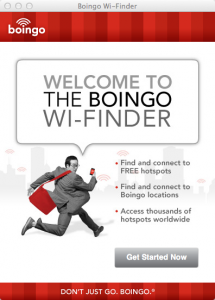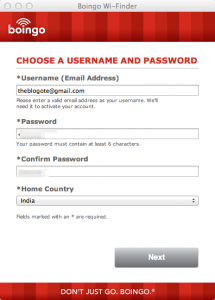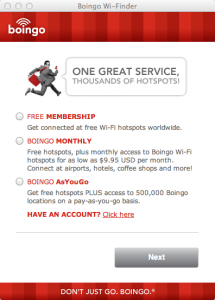 You can also set the software to automatically connect to WiFi whenever you're in the same location. For more WiFi hotspots, search for a location by clicking the "Search" button — just add a location to get a list of hotspots nearby.
Boingo is already one of the largest WiFi hotspot finder, and needless to say, I'd recommend you to use this program only if there's any free WiFi hotspots nearby. I was able to locate 389 WiFi hotspots, but none of them were free. But if you are from a place where free WiFi hotspots is not a new thing, then there's no reason why you shouldn't download and use this tool — after all, it's free and works as advertised.