The wars may be on between Mac and Windows, Apple iOS and Android, but let's not forget that the Ubuntu is still a strong presence as far as open source operating systems are concerned. This much-loved (and hated!) operating system has just launched the version 10.10 beta or the 'Maverick Meerkat'!
There are a whole host of updates and upgrades on this version such as a new photo manager, improved multimedia controls and much more. But do keep in mind that Maverick Meerkat is in beta version and should not be used as your main OS, because if it crashes you may lose important data.
The final and stable version of Ubuntu 10.10 update will release on 10th October 2010, (10.10.10, get it?), but until then you can easily upgrade from Ubuntu 10.04 LTS without any problems. Press Alt+F2 to activate the update manager via command and the rest should follow up.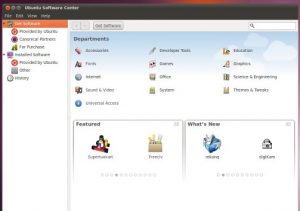 New Features in Ubuntu 10.10 Beta
Once you have it on your computer, you can start noticing the changes, starting with the GNOME based platform which has been updated to 2.31 versions. A new version of Evolution is also available and it works faster than what you had in the 10.04 LTS.
In one of the main developments Shotwell has displaced F-Spot as the default photo manager. This is a quite an upgrade even though it does not get near the standards of Picasa. The Twitter tool Gwibbber has also been changed to accommodate the recent modifications to Twitter's authentication system.
In another important upgrade, the Sound Indicator has been modified to include music player controls. Volumebox bugs have also been removed in the new Ubuntu 10.10 Beta.
When you open the Ubuntu Software Center, you will be impressed with the changed look and feel. 'What's New' and 'Featured' sections make their debut. These highlight applications and describe what is in the package. Even a 'For Purchase' category has been added and package installation history can be easily accessed now.
The syncing service, Ubuntu One has also received the facelift it needed. Now you have a sleeker desktop integration and new processes for signing up and signing in. File syncing speeds have been significantly improved and folder sync preferences have received enhancements too. You can also share links to music listed in the Ubuntu One music store.
Free Download Ubuntu 10.10 From Ubuntu.com
You can download Ubuntu 10.10 beta version by clicking here. The Maverick Meerkat 10.10 should work on any system and should give you a good taste of what the Open Source community has to offer.
And If you are into development then you can obviously share your inputs on this beta version for the better final release!