Gone are the days when you had to carry a guide map for finding out the exact location of the place. Now, in the era of technology, the obvious navigational way is to make use of digital devices for hunting those specific locations.
What better way than to have such maps integrated with your everyday mobiling device? And that too, for free?
The Ovi Maps For Free Download on Nokia Cell Phones
After several successful attempts in spreading ovi maps by providing one week free download, the license key to Nokia Ovi Maps navigation – Nokia has finally decided to make this mobile navigation app free for everyone!
With this Ovi Maps (.sis file) you can find places, locate and share locations, activate car driving navigation, and get access to local maps! No doubt, such kind of navigational applications are very much useful at times.
Note: The free-to-download Ovi maps doesn't work on all the Nokia cell phones. The selected devices supports ovi maps, and works flawlessly after installation as informed by the Nokia blog..
Nokia N97, Nokia N97 mini, Nokia 5800 XpressMusic, Nokia 5800 Navigation Edition, Nokia E52, Nokia E55, Nokia E72, Nokia 5230, Nokia 6710 Navigator, Nokia 6730 classic, Nokia X6, Nokia N86 8MP, Nokia E71, and Nokia E66.
How to download Ovi maps on Nokia Phones
Head over to Nokia.com/maps website or visit this link where you'll be prompted to select your Nokia device before downloading the Ovi maps.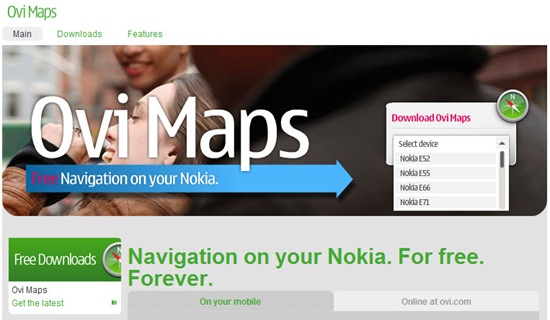 Read the instructions in the page and click on OK to proceed to the next page for downloading.