We already know that Cell Phone cum wrist watches aren't a newly invented concept that are already in existence. Though mobile industry never really branded them, now the initiative has been endorsed by LG by launching LG GD910 cell phone.
We already saw few creative cell phones that includes wrist cell phones as well, but this LG GD910 empowers some useful features that are easily made available in between the compact leather strap.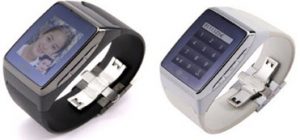 LG Wrist phone is a bluetooth set that carries flash interface, camera and 3G technology features with it. Not only is this a smallest cell phone cum wrist phone, but it can also be used for video calling and includes text to speech support!
The LCD screen size is 1.43 inch and sources says the battery life is about 247 hours which is amazing.

View Full Album
Though the no-radio, no-expandable memory are it's disadvantage but for a wrist phone like this – it's definitely acceptable.
The LG GD910 is already available for purchase in most of the countries (price differs in some countries) although it's a bit pricey item but worth it. Cost – 1000$-1500$ only