Streaming music from the internet to your PC or mobile device is something that you usually do if you like listening to music. But doing this to your online library is something that you don't do every day due to some inhibitions. This may be resolved with the help of Google, HP, and Apple.
MSpot has the latest free service and unlimited streaming that is available since June 29. It allows you to stream from the cloud to an Android device or computer. The software that will be installed on the computer is compatible with Windows and Mac. 
The good thing about MSpot is you can choose the folders that you will sync with your MSpot storage. You can also sync your MSpot to your local libraries like Windows Media Player and iTunes. And this is very convenient because the changes that you will make in your local library will also appear in your online collection.
You can use many browsers to access MSpot like Internet Explorer, Chrome, Safari, and Firefox. Android 2.1 (or higher versions) using mobile devices can be used to access MSpot also.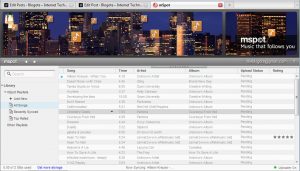 MSpot will surely give a superb result whether you are using an Android or PC. We have tried using it on Android and Chrome and both are satisfactory. The interface is very simple and the playing of songs began immediately. With the sync feature of the program, accessing the same library using multiple devices is possible. There's also no problem if you are using EDGE or 3G because you can definitely use them to stream music without buffering. Wi-Fi can also give you the same results. That's a plus!
The best part, With MSpot, is you'll get 2GB free storage but you can exceed that storage limit if you want to. The charge for additional gigabytes ranges from $3 to $14 (the rate depends on the plan that you will choose). But you will actually not need extra storage since MSpot compresses the tracks. MSpot's standard is 48kbps in AAC+ format which is still quite good. Though you will mostly prefer the original one, this is useful especially when that original file is not available.
There is only one flaw that you will encounter — MSpot doesn't allow you to directly upload or rate files from your local library in computer or mobile device. But I hope that this feature will be added in the future. Overall, MSpot service is superb and very useful for people who love listening to music but always on the go.