After spreading through all imaginable forms of entertainment like cinema, cameras, games, televisions etc, 3D has now arrived on your cellphones. One of India's leading budget phone manufacturers, Spice has recently unveiled India's first 3D phone, dubbed the View D.
The device features a 2.4 inch auto-stereoscopic display which is a full fledged 3D display; working without the need for polarising 3D glasses. So you can breathe a sigh of relief as you won't have to wear those clunky glasses to use this device.
However Spice doesn't mention the exact kind of stereoscopic display used in the device's LCD screen but it is to be noted that all stereoscopic displays suffer from limited viewing angles. But it shouldn't be much of a problem.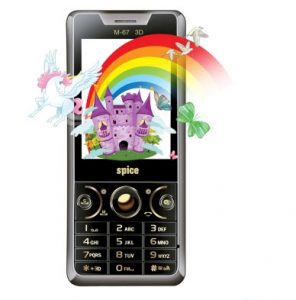 The phone also lets users choose between a 2D and a 3D interface so you can switch between the two if that's what you please.
Another nifty feature that the phone has is something known as Remote Wipe. What it does is allows users to remotely delete all the data on the phone by just sending an SMS to the device containing a unique code. This would immediately erase all data from the phone. Pretty useful for people who run the risk of their information falling into others' hands.
Other than the 3D function, the View D Spice phone is a regular candybar staple from Spice. The looks are good but nothing worth going to the bank about. Features include a 2MP camera, MP3 player, an FM radio, expandable memory up to 16GB as well as GPRS facilities. Pretty standard fare. The phone is priced very competitively at Rs.4299 ($200) and if you're lured by the 3D factor and would like to flaunt the latest trend, this might be the phone for you.
Spice hopes for this phone to lure users with its 3D display and low pricing. The target audience are youngsters who might be attracted towards the new fare that is not available on any other phone in the market.
In the words of Kunal Ahooja, CEO and Director of Spice Mobiles, "We expect that the View D would get popular among the youth as they are always looking for smarter and newer means of communication. The Spice View D satisfies ones hunger to bring in innovative technology as well as to try something new and cool."
With the phone now being available in Spice stores countrywide, only time will tell how it fares.