Not too long ago, the landscape of super apps was quite sparse. One prime example was the widely acclaimed WeChat from China—a powerhouse that seamlessly integrated a diverse range of services spanning various aspects of daily life. Over time, the count of these all-inclusive apps surged, culminating in 2023 earning its stripes as the "year of the super app," as declared by global analysts. In this very year, a new contender took the stage: Gem Space, the latest player in the world of super apps.
Super App — Your Gateway to an Ecosystem
A super app is an application that brings together a multitude of services, positioning itself as the entry point into a unified space. Previously, for each of these services, one would have had to install separate apps, taking up valuable space on their phone. Nowadays, a single app replaces numerous ones, serving as a user's digital hub.
Gem Space, the super app, was built upon the foundation of the Gem4me messenger. However, over time, it has grown significantly in terms of features and services. In Gem Space, boundless opportunities for communication, creativity, and business have been forged.
The Features of Gem Space
The messaging functionality of its predecessor has seamlessly transitioned into this super app. Users can still make calls, send messages, and organize online conferences. These conferences can accommodate up to 1000 participants simultaneously. Additionally, a unique feature has been introduced: the ability to effortlessly transcribe audio messages with a single button tap. Furthermore, users can translate received text into any of the 17 available languages using an integrated translation bot. Sending files of any size is also streamlined and entirely cost-free.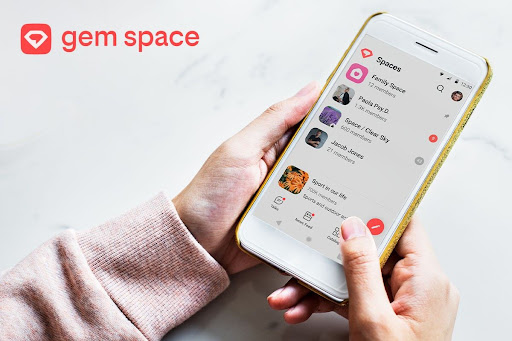 Recently, a completely new section has been introduced in the app – Communities. In this section, users have the ability to create their own thematic spaces. Within their own community, they can set up channels, individual and group chats, and invite users through links. 
Embedded within Gem Space is an integrated blogging platform, consisting of three sections: Feed, Channels, and Catalog.  The smart news feed adopts the standard social media news stream format, conveniently presenting updates from all subscribed channels in one location. Additionally, the system curates channel suggestions based on preferences indicated during registration.
Channels serve as the gateway to accessing subscribed channels and discovering new recommendations. Meanwhile, the Catalog showcases the full spectrum of platform channels, accessible via thematic catalog listings or curated collections. Amid these collections, you'll stumble upon enticing categories like "Don't Miss This Channels" and "Most Popular." Right there, an article editor for bloggers is built-in, enabling them to craft articles for publication, insert images, and format text. Bloggers also have access to the functionality of scheduled posts: while preparing the text, they can choose the exact time for publication in a dedicated menu—either immediately after writing or at another specific time. This service makes it convenient for bloggers to plan and schedule posts ahead of time.
Upcoming Development Plans
Users will soon have access to a cryptocurrency wallet and the GemAds advertising platform. The advertising platform will assist in monetizing content. Meanwhile, in Gem Space, users can currently send donations to their favorite bloggers without any platform fees. Additional updates awaited by users include private channels and premium content offerings.
By incorporating the super app into their daily routines, users become accustomed to the convenience of accessing a plethora of services within one application. Staying within their account, they can efficiently address many everyday tasks. As a result, they save time, a crucial consideration in today's world where time is the most precious and irreplaceable resource.