We all love to be winners, right? Blogote has joined hands with Ashampoo to giveaway the most popular Ashampoo applications for free. The Ashampoo Burning Studio 11 is our first giveaway, and you could stand a chance to win a copy of this software.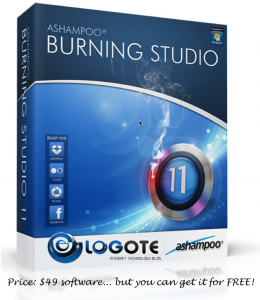 What you need to know about Ashampoo Burning Studio 11
There are many applications that can rip and burn disc. There are, however, a couple of reasons why Ashampoo Burning studio beats them all. This burning utility is a little special and different from the rest of the programs out there. Of course, it costs money (but hey, you are getting the product for free!) but the features bundled with this program makes it worth the investment. Here's a quick rundown of some of the rich features of Ashampoo Burning Studio:
Features of Ashampoo Burning Studio:
Burn files and folders
Programs I have used, usually free ones, are not that bad, but they are not very good either. But Ashampoo Burning Studio 11 has a gorgeous interface. Take a look at it yourself; how many programs on Windows have such a neat interface? Not many. And yes, you can easily burn data on CD, DVD or Blu-ray Disc, and create automatically starting discs or update previously burned discs. The slim, modern and quick Compact Mode is just perfect for burning data.
Burn movies
Ashampoo Burning Studio 11 enables you to create video discs out of different resources and formats, for example. Blu-ray Discs from a prepared folder, super video CDs or DVDs.
DVD and Blu-ray Disc authoring
Ashampoo Burning Studio 11 makes it easy to create DVDs or Blu-ray Discs with individual menus in a brilliant design without having to miss out on a comfortable range of functions.
Create slideshow discs with photos and videos
Create incredible DVD/Blu-ray slideshows from your photos as well as videos and add titles, logos, subtitles, transitions and background music.
Editor for covers and labels
The full-featured editor prints to labels or directly to printable discs. The program also provides several themes to design your own layouts.
Back up and restore data
Back up your valuable data to one or more CD, DVD or Blu-ray Disc. Single backups can be burned onto several discs.
Win 5 License Keys of Ahampoo Burning Studio [2012 Updated]
If you do not wish to pay $49 to obtain a genuine copy of Ashampoo Burning Studio 11, then you may want to consider participating in our contest.
How to Enter the Giveaway
For every task you complete, you will get a couple of points. A total of 7 points (entries) can be earned — you have nothing to lose here. The contest starts today and ends on October 20th. After the contest ends, Rafflecopter (the tool we are using to create contest) will select winners automatically and we will email them the download link along with a genuine serial key of Ashampoo Burning Studio.
Enter the contest:
Burning Studio is compatible with the following OS: Windows XP, Vista, Windows 7, Windows 8 (32-bit and 64-bit).
If you face any problems while participating in this contest, feel free to let us know through your comments below.