It was a nice Saturday morning when my cousins got their Apple iPad. And oh boy! They, or We to be more appropriate, were so amazed with the new gadget and they didn't seem to notice it's been hours since they started meddling with it, clicking here, pressing there, taking photos and screenshots and testing every application that the device have to offer.
But I have got to admit that after several hours of exploration, there still remains a lot of interesting features that my cousins (and with me of course!) need to get acquainted with the Ipad. Since we started getting our hands-on and inspection, me and my cousins have touched first base with Ipad and here are a few of what we came to know about it: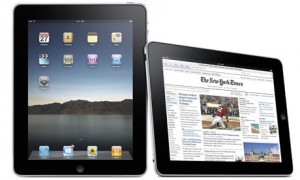 The screen, it was huge and vivid. So bright with lively colors it simply left us dumbfounded! And when the Epicurious  (an intermediary application), we were all rendered speechless by the dazzling red splash on the screen, whereas the Marvel Comics application, though still in beta form was also astounding. With the iPad screen, you would never feel that it's like a screen taken away from a laptop; instead it gives you a feeling of having a really big iPhone monitor in front of you.
Due to the bigger screen size, applications are displayed more conveniently for the user, it can be split in a landscape mode (content to the right and items index to the left). The Ipad is even more functional, due mainly to the additional items on the toolbars plus the 'popover' UI which could impossibly fit in an iPhone. Pretty fast operating system too as seen from the no-delay zooms and pans even when running the Safari browser.
Moreover, there are also several accessories that we have tried with the Apple iPad to further enhance its performance. One is a proper case to give it a slight inclination when placed on your lap or on a table top. The Keyboard dock can be attached for maximized typing and with its Bluetooth accessories for audio, headphones and many others make it a feature plus gadget. The iPad of course charges exclusively through its own power adapters.
Additional iPad applications can be acquired from the App store. File transfer with Ipad is also made much easier. There's even an application called iWork for reception and conversion of files among others apps.