Gmail, AOL, Yahoo, Hotmail, Lycos and every other email providers lets you have a signature at the end of your email message. You can also add current location along with the signature.
A custom signature contains your name, address, website URL or any other information, and this information will define more about you and your business. You can take this custom signature to the next level. How? Add more personal information and give it a colorful touch.
Creating Signatures for your Email Messages
As you know there are many email signature services offered on the Internet, and most of them are paid. Some people will create a banner which can be used as a signature in forums or in your emails. If we look into these custom email signature service some of them charge $10 to $100 depending on the type of creativity they put in. But always know this: a good email signature attracts customer for your business.
However if we look in to the web you will find a lot of Email Generator programs which makes attractive custom signature for your email address. One of the recommended online service to create these signature can be found here. Here, we create a basic image email signature badge which can be used in Gmail, Yahoo, Hotmail or as a signature on every email. In other words, you can create your own custom email signature without spending a penny.
We will use Firefox browser and create a colorful yet stylish signature in a couple of minutes. I also wrote on how to create custom Gmail signature by using wisestamp addon for firefox which also generates a nice professional email signature for your online identity or company. Having an custom email signature proves to be beneficial as people can network you and understand you better in this online world!
The signature  below surely gives a unique look to your emails. If you want to make some professional free custom email signatures then use Wisestamp. To set up your own personalized & customized signature just download Wisestamp on your Mozilla's Firefox browser.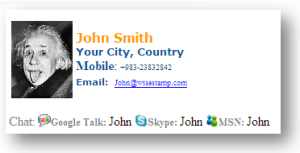 Signatures can also have links to social sites. WiseStamp will create and automatically insert your custom made signature on your mails every time you are sending an email.

You can control all this from your email's setting options. Here are some of the features of Wise stamp extension:
Customize your signature in design, font, images, etc…
Add your Social sites link like LinkedIn, Facebook..
Add Instant Messenger ID like Gtalk, MSN, Yahoo
Assign Multiple signatures for business & personal emails.