Google Plus (add me?) has quickly coagulated into the social networking site that everyone seems to like over the behemoth Facebook. In the past two weeks, Google Plus (or G+, GPlus, Google+ — whatever) has been able to stock over 10 million users. And the numbers are increasing as we speak.
Now there are a couple of features missing in Google Plus. One of the most important one is the ability to search the site for updates. The good thing is, all this and much more can be achieved by the simple "site:" search operator. But what if you want to search for the popular posts on Google Plus? Posts that are shared by thousands of people on Google Plus?
Again, site: operator with the blend of other operators can do the trick. So here's what you have to do: Go to Google.com and type this:
site:plus.google.com inurl:posts 30..2000 shares
What does this do?
The Site:plus.google.com restricts the results to the Google Plus domain while the operator Inurl:posts will display the URLs that have the word "posts" in them.
Lastly, we use the range operator (..) to display posts that have been shared anywhere between 30 to 2000 times. I bet some of you didn't know about the range operator.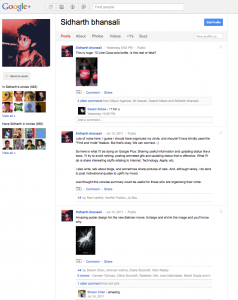 Play around with the code. Maybe you can change the number of shares to 5000 and see what Google shows up. For now, this is your ideal choice for finding popular posts on Google Plus. If you have anything to share, feel free to let me know.