If you are a web addict or a parent who doesn't want your kid to browse some of the time-wasting social networking site or any website in the Internet then you can block them from your Mozilla Firefox browser.
As you know, Firefox lets you add addon to enrich your browsing experience. One such addon that goes by the name Leech block allows you to block certain websites permanently. You can also switch between the set of websites to block depending on your needs.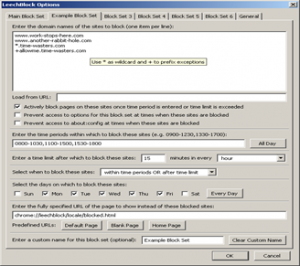 To block a website you have to install Leech block addon (link) and enter the set of websites into the list.
You can make a list of websites and split them into six divisions and set a fixed blocking time. For example you can block social networking websites such as Facebook, Twitter, Google Plus, Myspace during the morning hours, and, say, block news sites in the evening.
You can block any website. There are no restrictions — want to block a page, yes you can!
Regardless of the Operating System you use, Mac or Windows, Leech Block works if you have Firefox installed. If you are low on productivity, then this is the addon you need to block websites that eats up your precious time.