I have this habit of using BitTorrent clients to download files off the internet. On Mac, Transmission is an extremely easy-to-use, free BitTorrent client that does a pretty job done in bringing the files on my HD. However, one of the video file that I recently downloaded off the BitTorrent client failed to playback on the Mac media player.
For some odd reason, the default media player was not able to playback the .AVI video file. At this point, it was evident that the video file may have been downloaded incorrectly, or it was damaged. In my case, the file was damaged.
How did I Fix the Damaged File?
It isn't feasible to buy a converter, or pay for a commercial tool that promises to fix damaged .AVI files. Fortunately, the media player that did fix the broken video file is a freeware and open source program — can you guess its name?
That's right — VLC Player did the trick.
VLC Player Fixes .AVI Files
VLC player is an open source multimedia player available for both Windows and Mac OS. The fact that VLC can detect and repair video files took me totally by surprise — it does, in fact, repair and playback all the video files.
To fix a .AVI video file, right click on the file -> Open With and choose VLC Player. A dialog box pops up which looks like this:
Click on "Repair." Depending on the size of the file, VLC Player should take some time to repair the file. That's it — you have single-handedly fixed a damaged video file!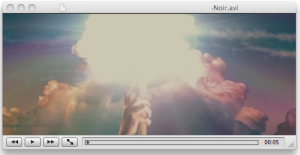 Note that this will not fix the .AVI file permanently — you need to click on "Repair" every time you want to open the .AVI file.