Sometimes there is a need for additional Gtalk accounts to keep everything organized – Personal and business wise. However, Google's Gtalk doesn't allow you to combine Gtalk contacts or to chat simultaneously without switching to the other account.
But we can always configure Gtalk in such a way that we can open multiple gtalk account and chat with our associates.
How to Run Multiple Instances of Gtalk
Although this trick has been around for quite sometime on the web, but majority of the users are confused with the target Googletalk url. So here is the step by step guide on how to do this in a simple way..
Right click on your desktop
Select New and then Select Shortcut
This opens a dialog box requesting to type the location of the item.
Paste this target url (the whole line)
"c:program filesgooglegoogle talkgoogletalk.exe" /nomutex
Click on Next and rename if required, and click on Ok.
That's it! Pretty simple. However, if you have not installed Google talk in C drive (in that case error not found is displayed) then you have to find out the exact destination url.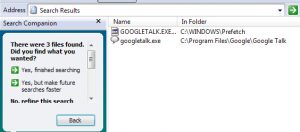 f you are unsure about the destination url then run windows search for googletalk.exe file name. After the completion of the search, copy the correct url and replace it in the target url. This way you can run two or more than two Gtalk accounts simultaneously!