I have watched around 5000 videos in a year in YouTube.com (I am amazed) and most of them deal with funny spoofs and rare music videos that are not found over the other Internet websites. Recently I posted that YouTube allows you to view latest high quality movie trailers which is also one of the positive factor that makes me stick with YouTube, probably forever 
And in this post, I will show you a simple way to watch YouTube videos with lyrics on. You can always make use of lyrics plugin or website to view lyrics but with this JavaScript, it gets easier.
Youtube Video Lyrics on Sidebar
Just make sure you are using Mozilla Firefox browser as we will make use of addons and user scripts that will take a couple of minutes.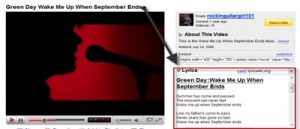 Method – You will need Grease monkey addon installed on your Firefox. And then download the script which will display lyrics as shown above in the screenshot.
It's done! Visit any youtube music video to see the lyrics in the sidebar. You can also choose to view lyrics from different website (supports 10+ lyrics website). This depends on the video title, if the title of the video matches with the lyrics website then lyrics are displayed automatically.
Most of the time, the addon seems to work very well for videos with proper titles or artist name. I hope you all will find this tip useful!