Netflix is a service offering online flat rate DVD and Blu-ray disc rental-by-mail and video streaming in the United States. It is estimated to have amassed a collection of 100,000 titles and approximately 10 million subscribers.
This company has more than 55 million discs and, on average, ships 1.9 million DVDs to customers each day. The company provides a monthly flat-fee service for the rental of DVD and Blu-ray movies.The procedure that a subscriber has to follow to avail the services of this company is that the subscriber creates an ordered list, called a rental queue, of movies to rent.
How does Netflix work? After the payment, the movies are delivered individually via the United States Postal Service from an array of regional warehouses. Netflix also offers internet video streaming to eligible subscribers, enabling the viewing of films directly on a PC or TV at home. Internet video streaming comes free with Netflix's regular subscription service. The thing that happens is that the video is streamed to the user using standard PC hardware, and requires Microsoft's Silverlight software to be installed on that PC.
Streaming Netflix on Wii
Again, as we all know, Wii is one of the most famous video gaming consoles in the world, brought to you by Nintendo. Even when there is stiff competition from other gaming consoles like the Xbox 360 and Playstation 3, the Wii has emerged to be one of the best selling consoles not just in the United States, but all over the world. Nintendo claims to have shipped as many as 70.93 million units worldwide. So we can safely conclude that there are a lot of Wii users in the world.
Now comes the exciting part. The latest development is that both these companies are coming together. Now Wii users can watch movies and TV shows streamed from Netflix on their Wii console. And this is not a limited offer. Users can use this facility as often as they want to as long as the  Wii user has a membership with Netflix, which is available at as low as 8.99 dollars per month.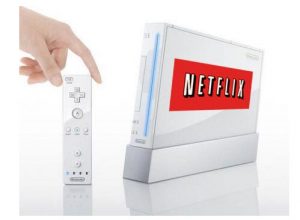 Any Wii user just needs to go to Netflix.com/Wii to start a free trail.
All Nintendo Wii consoles are able to connect to the internet as long as they are connected to a broadband internet connection, so any Wii user will be able to avail this service in a very hassle free manner. Another way that Wii owners can start availing this service is that they need to put in a request for a free streaming disc, which will be sent to them by Netflix themselves. The request can be put in by the user at the official site of Netflix. The discs are sent out to the user after about one to two working days after the request and they are sent using first class postage.
The only drawback that this service has is that Wii users only in the United States of America can avail to this service. Others all over the world will have to wait in the mean time and expect that Netflix give them the opportunity in the near future to avail this outstanding service.