Microsoft is tasting success not only with its Windows 8 operating system and tablets but also with SkyDrive, which is the company's popular cloud storage service. SkyDrive is growing at a phenomenal rate, with double the usage in the last six months, according to Microsoft.
Users have embraced SkyDrive cloud service with open arms, and that's the reason Microsoft is adding new things lately. The new addition announced today gives Windows users the ability to sync and share specific files and folders right from their desktop.
Selective syncing is useful for laptops, computers and tablets that have less disk space. According to Microsoft, "You're in control. If you'd like to keep all your photos and documents in SkyDrive but only sync a folder of your most important documents to your laptop, you can do that – even if your desktop is syncing the full set."
Additionally, both Mac and Windows users can download the SkyDrive app by following this link. Note: You should login into your Microsoft account — use Live, Outlook or Hotmail email address. Here are the direct download links:
Photos uploaded on your SkyDrive account can be accessed by opening the SkyDrive's Pictures folder on your computer. Adding new files is really easy — drag-and-drop files into SkyDrive folder. Documents, media, songs, and everything can be transferred to the SkyDrive's cloud server.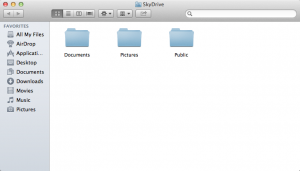 When you are offline — not connected to the Internet, that is — you can still open, add files and create new folders in the SkyDrive folder. Syncing, though, will happen only when there's an Internet connection.
Exchanging files between Mac and Windows PC has always been painful. Cloud services eliminates such problems by introducing cross-platform apps. SkyDrive, similar to Dropbox and Google Drive, is gaining popularity because it offers 7 GB of free storage space. However, much of Microsoft's success is constructed on aggressive marketing and ultra-modern, metro-like looks they have painted on their prominent products.