I am one for convenience and I like how people spend much effort in finding new ways to make everyday living so much more convenient.
Today, another innovation is currently making waves across borders and this is the electronic book or e-book reader. Yes, new age reading has indeed arrived. Avid readers can now bring all of their favorite reading materials without the need for any heavy lifting.
The Amazon Kindle and Sony Reader revolutionized the electronic book industry by offering a world of knowledge in a neat little package and now another product attempts to do even more.
ViewSonic currently released a line of e-book readers namely the VEB 620 reader and VEB 625 reader both offering 6-inch monochrome screen displays and 2GB internal memory for your digital library. To compensate for the absence of full color displays, which were rather disappointing, ViewSonic designed these readers with touch screen technology.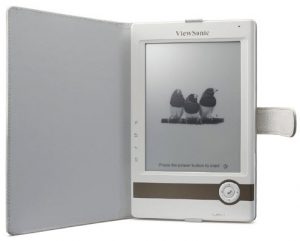 I prefer the Viewsonic VEB 625 model though because it is already Wi-Fi ready. I can easily download e-books to my reader. With the VEB 620, you still need to manually load your e-books may it be via SD card or USB connection.
ViewSonic Against Amazon Kindle and Sony reader
Also, each ViewSonic reader uses a G-sensor that allows the onscreen display to reorient itself, in vertical or landscape mode, according to how the device is held just like the Apple iPad. This new feature gives ViewSonic readers an advantage over their predecessors.
Flipping through pages with the ViewSonic feels as if I was going through the pages of a real book. This is because of the E-INK technology used for these reader screens. E-INK only requires minimal backlighting saving much battery power, not to mention lessens eyestrain from lengthy reading.
I was already able to go through a number of different books with thousands of pages and the battery was not even on the halfway mark. You can also adjust the text size to your liking with this device. Just zoom in for a better look or zoom out for more page information.
Aside from going through a number of electronic books, I was also able to use my ViewSonic reader to store and view photos and even listen to music files and audio books using the 3.5mm headphone jack. Clearly the ViewSonic readers achieved the standards set by the Amazon Kindle and Sony Reader. Who knows? Maybe in a few months we'll get to see yet another innovation that surpasses these models.