So, how do add an facebook page on your website or blog sidebar? Here is an quick and easy tutorial to help you avoid intricate situation and instantly add facebook fan pages on your websites.
First of all, you need to create a page from your facebook profile. For example, blogote's fan page can be found here. You can also become a fan if you like this blog 
The benefit of making pages lies in building a community and knowing more about your users. However, I've also seen that facebook pages loads quite slower on website compared to other elements (atleast on this website).
There was no easy way to add the facebook pages on website using an facebook profile. In the pages section, you can only manage your existing pages and cannot add them to website. In anyway, for those of you who are looking for information, here is how you can embed facebook fan pages on website..
After playing around for a while, I found out the developer link which can be accessed by clicking here.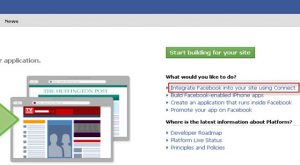 Click on Integrate Facebook into your site using Connect and once the window loads you will find various options to connect your site with facebook as shown.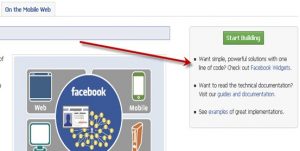 Click on the url that says 'Facebook widgets' or directly visit this url which displays numerous facebook . Choose fanbox and proceed with the rest of the instruction would take couple of seconds.
You will be provided with the code that needs to be added on your website, once you're done with that, refresh your webpage and there you've facebook fan page embedded to your website