New Mac OS users — like me — will be delighted to explore their Mac OS machine and try out the interesting breadth of applications built exclusively for the Mac users. Out of all the copious amount of IM chat applications available on the Mac OS, including the Mac's built-in iChat client, Adium has to be one of my favorite chat messenger client.
Adium is an open source instant messaging client available for download on Mac OS. The latest version of the Adium messenger offers a wide range of new features and supports most of the IM protocols including Google Talk, Yahoo!, MSN Messenger, Jabber, Myspace IM, etc. Type in your e-mail address and the password to access all your accounts from your desktop with the Adium client for Mac OS. Plus, you can easily update your status on Facebook and Twitter — as Adium offers social site integration too.
I am exploring the Adium client as we speak, and the chat client definitely has plethora of features that will take me a while to figure out. Some of the recognizable features under the hood of Adium client includes: easily customizable and the delightful Adium UI, support for sophisticated encryption, file transferring, Mac Address Book integration and the Plugins support. And the best part: Adium is completely free to download for your Mac OS — no advertisement and no catches.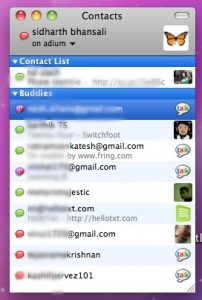 Download Adium Chat Client For Mac OS:
The latest version of Adium is 1.4 and works on intel-based Mac OS X 10.5.8 or newer. So, given the fact that Adium is completely open source, and free to download — go ahead and download this wonderful chat client from the official Adium website.