The AxCrypt can be effectively used in encrypting your individual files. Simply right click on the file then choose an option found in the AxCrypt submenu. Afterwards input a password and your file is saved from possible infiltrators.
Encrypting the file and turning it into an AxCrypt file entails converting it to a .axx file or a self-executing file as .exe and it can be conveniently sent to anyone who has no AxCrypt. This is useful as it could be pretty hard to send .exe file attachments in email.
AxCrypt is also useful for shredding a file. All you need to do is overwrite the file with some random information that it would be hard to retrieve.
In terms of algorithms, 128-bit AES encryption is utilized by AxCrypt which has no option for a more safe and protected AES-256. The AES-128 is reportedly and allegedly safer and more secure to use than AES-256 but both may not at all be unbreakable unless a strong password is used.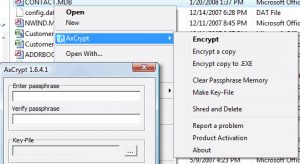 In general, Axcrypt supplies computer users of all types with something that need not be bothered with a very strong password. If you have a certain program and you wish to create it with a key file, then you can do so. A Key file is a file with a plain text that contains a considerably extended but arbitrary character strings. As a result, you don't need to remember any character or word that you entered as a protective password. But you need to make sure that the Key-file will not get lost or misplaced, nor should you allow any other person to have a possession of your Key-file.
AxCrypt is known as the top among all the open source encryption software of files created in Windows. It is flawlessly integrated with Windows for compression, encryption, decryption, storage, sending and manipulation of all your files. Download Axcrypt from here.
It has a lot of features to offer in protecting the file. It has right click incorporation that allows it to be used in Windows for an easy encryption of Windows files. The integration of double clicking allows the encrypted file to be opened, edited and saved just like any other files created without encryption. Other features do not even require any configuration; just the usual installation and you are good to go with the encryption.
In addition, AxCrypt is available in many language translations not just English.