Over 100 million active users and counting, uTorrent community has a constant growth over the years, but will the users opt for the paid version of uTorrent?
As most of you know, uTorrent Plus is the paid version that stretches the functionality of the free uTorrent client. The development has been in queue for a couple of months already, and it's satisfying to see that today marks the launch this paid client.
Here is the email I received for pre-ordering uTorrent Plus: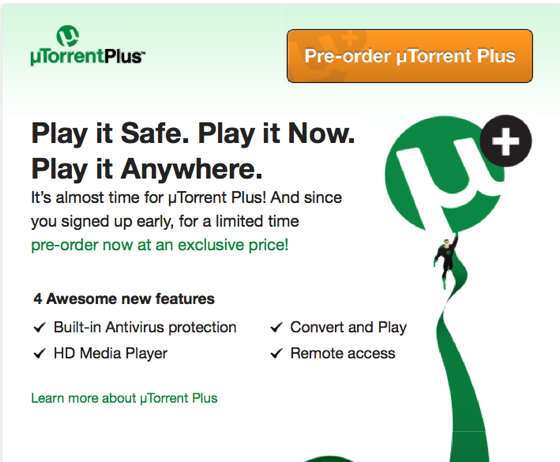 Subscribe to uTorrent Plus
You get HD media player, built-in antivirus protection, video conversion for Apple, Android smartphones, and you can also remotely download content using uTorrent Plus client. Note that all of these features are not available in the free version.
Price of uTorrent Plus: The exlusive pre-order demands $24.95 for which you will receive 1 year and additional 6 months of uTorrent Plus client for your Windows PC. Sadly, for now, there's no support for Mac OS X yet.
Fair enough. That's a decent offering for Windows users. But this inadvertently begs for the question whether torrent users will buy the uTorrent Plus client? Because the features are not really something exceptional given that you don't get a lifetime subscription.
Also, there's always a likeliness of the pirated version of uTorrent Plus leaking out on the torrent sites.