Instant messenger are used by millions of people on the Internet,till today different instant messaging services with cool interface have been built and downloaded.A instance of multi protocol IM clients shows how popular IM clients have been,most of all they are addictive if you have a lot of network in your contact list.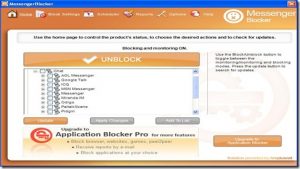 Messenger Blocker is a tool built to eradicate the IM chat client from your computer and get a reports.This freeware application is useful for parents to see if their son is chatting a lot on the Internet.Having maximum security over the Internet is a important thing,if anyone does abusive work or wastes lots of time chatting regardless on any topic can be blocked using Messenger blocker.
Here are the features of Messenger blocker :
Block IM chat client from being used on PC
Block the user from contact list
View and manage reports on chatting
Notify user when blocked with customized warning message.
If you are one of the parent who is tensed about Instant messaging from your kid then this free blocker and chat report usage application will be helpful.Messenger blocker compatible with AIM, Gtalk, MSN, WLM, Yahoo, Miranda IM, Pidgin,digsby etc. and works on windows 2000,windows 2003 and windows XP,Vista.