If you are heavily into VoIP calling then here's some good news for you. Skype has just released a new version of the VoIP software, which allows you to make group calls involving as many as 10 callers!
The second beta version of Skype 5.0 is already available for free downloads and also includes features such as automatic call recovery. The UI is better than previous versions and some of the clutter has been removed. The new Skype 5.0 is also supposed to deliver higher quality calls and fixes some of the bugs present in the earlier versions.
But 10 way video calling remains the star attraction by far. The success of the previous 5-way video calling feature must have spurred the Skype team on to deliver something bigger and better. This feature should be ideal for virtual meetings and family chat sessions. Even mini-classrooms can be run using this feature, quite easily.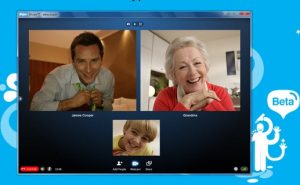 This looks like Skype's answer to Google's video chat function, which now looks even more inferior. Will this be able to generate the same buzz as Google Voice has done recently? That's the big question!
If you use this version of Skype, don't expect everything to go smoothly as yet. After all this is the Skype 5.0 beta version you will be using and bugs will be there for sure. Moreover, you can use this feature with other callers only if they have the same beta version of Skype.
It will be interesting to see whether 10-way calling is made a free feature when the final release arrives. In all probability, it will be a premium feature, with the 5-way calling becoming a free feature. But if indeed that happens, Skype will face serious competition from services such as Tokbox which offer multi-person video calling for free along with other amazing features.
Beta Skype 5.0 Download For Windows
Though officially this runs on Windows only, you can tweak Mac a bit to make it work. You need to access the Mac program terminal which accepts UNIX commands. Though it is a safe procedure you should only try it if you are really desperate to use 10-way calling on Mac.
Download Skype 5.0 For Windows XP, Windows Vista and other Windows Platform from the official Skype website by clicking this link.