A recent update eliminates the questions raised against the Google's free Google Latitude app, which wasn't compatible with the iPhone 3G device. The new updated version of the Google Latitude support the iPhone 3G model and can be downloaded for free from the Apple Appstore.
As most of you know, the beauty of the Google Latitude app is the location tracking service that can be used by you and your friends to track each others location. Simply launching the app on iPhone 3G device is enough to automatically update your location while you are on the move. You can tweak and manage the privacy settings as well.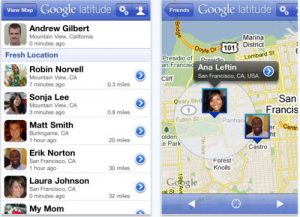 Although there is no dramatic design breakthrough with this app, but the latest inclusion is the improvement in the battery consumption. If you have used Google latitude before, you'll know it can drain your battery in no-time. So this update is definitely a much-needed one — centered for all the iPhone devices.
However, the iPhone 3G owners should note that the app doesn't support the background location reporting mainly because of the hardware limits. Other than that, the app should run fairly well on your device.
You can head over to the Appstore from your iPhone 3G, or download Google Latitude by visiting the iTunes page. Google latitude for iPhone 3G is free, and if you love taking part in sharing your location to the whole world, then this is the app just for you!