Apple's lust-worthy iMac may be a bit out of reach for students. However, Apple is planning to bridge the gap by launching a new model intended specifically for educational institutes. The budget-friendly iMac is said to be the cheapest iMac available for school students and college-goers.
In a bit to attract the students and educational institution worldwide, although the official launch date remains inconclusive, Apple will launch this "education only" iMac model next week — somewhere around 16th of August, or so the rumors speak.
Here's a quick breakdown of the expected specification of iMac 2011:
3.1GHz Intel Core i3 Dual-Core
21.5-inch LCD screen
AMD Radeon HD 6750 with 256MB
RAM: 2GB
Hard Drive: 250GB
SuperDrive
Priced at $999, there's Mac OS X Lion pre-installed on the iMac, which saves another $30 — not a significant saving I know, but hey, it feels good to save money, right? Right.
Who can buy the new iMac?
Apple calls this iMac as the "Education only model" on their Apple website. Apparently, iMac will be available for education institutions only, and not for individuals. Whether a student can bring home this machine or not clearly depends on the institutions purchasing iMacs in bulk.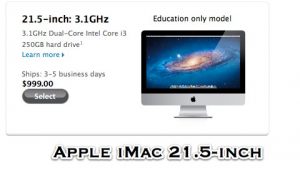 Should Schools/Colleges buy iMac?
The "educational iMac" is a huge step-down from the standard iMac.
If institutions can live with that, great. But if you are, as an individual, looking for a powerful machine, go with the standard iMac. Apple knocks off 6% from the original price for students who buys standard iMac — and I don't think the price will tone down further on the "Educational iMacs," because they are already discounted, you know!
Another note-worthy point is that Apple has included the bare minimum requirements for a better OSX experience. If any education institutes have a thirst for Apple products, or iMac in particular, then this is going to save a lot of money, especially when bought in bulk. Otherwise, for education institutions, $1000 for 21-inch iMac model isn't cheap.
What to hate about this "Education Only Model" iMac?
The on-board memory is cut in half, and the machine also loses out on the Thunderbolt port which is included on all 2011 iMacs. There's no FaceTime HD camera, SDXC memory slot, and there's only 21.5-inch display available.
The current 21.5-inch 2011 iMacs start at a price of $1199 with quad core processors as standard. Also, the refurbished iMacs are currently available on Apple's online store for $929. Note that these are machines with a healthy configuration, and the education only iMac isn't that rich internally.
Perhaps Apple should consider slimming down the price further to, say, $699?