iFunbox is a standalone tool to transfer, manage and explore files of your iPhone, iPod touch and iPad on your PC — all this without launching the Apple iTunes.
Suppose you want to transfer music, or copy images from your iPhone camera to the PC, or add application files (only for jailbroken devices), iFunbox is the tool you need. It is free and works perfectly with the latest iOS firmware.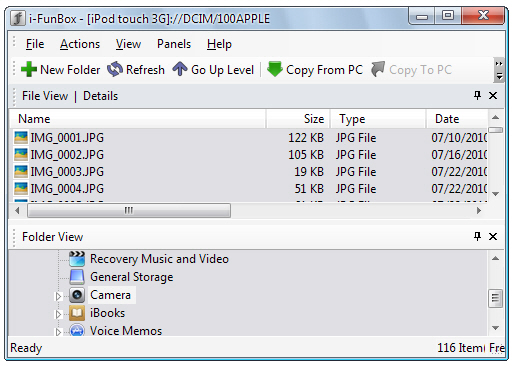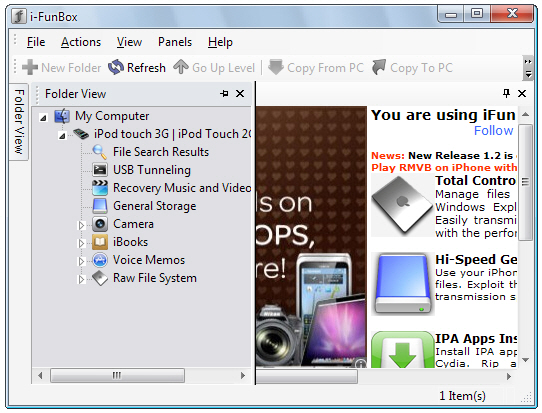 iFunbox can be used to batch upload and transfer files simultaneously, even the ePub documents can be pushed into your Apple device with the help of iFunbox. You can either use the buttons to copy files from/to PC, or a simple drag and drop does the trick. For users who have jailbroken their idevices, the program offers advanced features where you can drill into the core of the iPhone, iPod touch and iPad.
There's a small catch: When you launch the program, you'll notice a block of advertisement freely-floating on its interface, but the ad shouldn't drive you batty, I believe.
Is iFunbox Compatible with the latest iOS firmware?
Yes — although the official site fails to mention this, but iFunbox works on iOS 4.1, 4.2, 4.2.1 firmware, etc. Also, iFunbox works flawlessly with all the models of iPhone (iPhone 3G, iPhone 3GS, iPhone 4), iPad, and iPod Touch (2G, 3G and 4G).
iFunbox is compatible on the Windows platform and works only on Windows XP, Windows Vista and Windows 7. Although the Mac OS X version of iFunbox is rumored to be released soon, but for now, Mac OS X users have to deal with the iFunbox alternative like iPhone explorer.