Apple's new baby, the next-generation iPhone, was announced in Let's Talk iPhone event and will be available in Apple Stores by next week. We have the answers to your question about the new iPhone 4S with detailed features, specifications and price point.
When Tim Cook introduced the new iPhone 4S at the Apple's Let Talk iPhone event, audience and fanboys worldwide expressed mixed feelings. For some, the new iPhone 4S is a definite buy for it has many rich features, while others — iPhone 4 users, mostly — have been disappointed because the speculation ran rife that the new iPhone will have a whole new sleek design and bigger screen.

Nonetheless, the iPhone 4S is a mild refresh of the original iPhone 4, and it will take the shelves of Apple Store on October 14th. So, for those who want to buy iPhone, it'd be a good idea to skim through the features and specs of iPhone 4S.
So let's put the Apple hype aside, and let's talk about Apple iPhone 4S — what does the new iPhone really offer?
Apple iPhone 4S Specs and Features
Intelligent voice recognition with Siri.
Dual-core A5 Chip with seven times faster graphics.
No iPhone 4 Antenna drama.
Better Battery Life promised.
8MP camera and a custom lens with a larger f/2.4 aperture.
1080p high-definition video recording at 30fps.
iCloud to store music, videos, mail, contacts, etc. on the cloud.
Higher screen resolution
Global Roaming on CDMA.
iOS 5 — Apple's latest OS which includes several improvements.
Intelligent Voice Recognition with Siri.
Siri is an exclusive iPhone 4S-only intelligent assistant that answers to your voice. You speak to your phone (Siri), and your voice queries are answered instantly.
Siri can access your current location, set calendar event, set alarms, read messages, boots weather app, finds restaurant, and do much more through its voice-control technology.
Siri not only searches Wikipedia and Wolfram Alpha for your voice queries but also builds relationship, understands your preference and provides information without leaving whatever app you're on. However, to be able to use Siri on iPhone 4S, your phone should have access to Wi-Fi or 3G.
Dual-core A5 Chip with seven times faster graphics.
The new iPhone 4S boasts a dual-core A5 processor that is two times faster than iPhone 4. The processor has been engineered to run games that are graphically intense yet visually pleasing.
No iPhone 4 Antenna drama.
Antennagate sees an end, as the new iPhone 4S won't drop calls anymore. After having worked up a sweat, Apple iPhone 4S promises stable signal — and no more of Antennagate drama.
Better Battery life promised
iPhone 4S promises 8 hours on 3G, 6 hours of 3G browsing, 9 hours of Wi-Fi browsing, 40 hours of music, and 10 hours of video. Plus 300 hours of stand by.
8MP camera and 1080p HD video recording
With real-time video image stabilization and noise reduction, the iPhone 4S camera will not only offer 1080 HD recording but also capture high-resolution pictures, thanks to its 8MP camera.
iPhone 4S tucks camera lens with f/2.4 aperture along with it. And because of the A5 processor, subsequent camera shots take about 0.5 seconds while providing a better picture with its improved light sensitivity. There's face detection, too!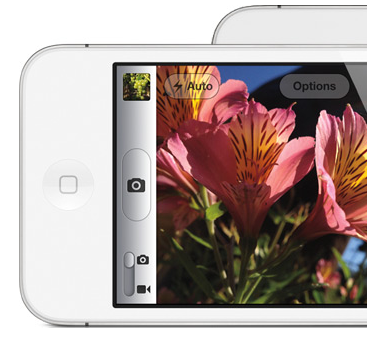 iCloud
iCloud is Apple's answer to cloud storage for iPhone. iCloud is integrated in iOS 5 and will be offered with a free 5GB space for everyone who wants to store data on the cloud.
You can re-download purchased music, apps, books on the fly.
iPhone 4S comes with iOS 5
iOS 5 includes plethora of improvements and new features. A new notification center, similar to Android, built-in Twitter integration, iMessage for instant messaging, improvements to Mail and Safari browser, and petty yet satisfying improvements are carted into iPhone 4S.
Price of iPhone 4S
Apple has confirmed the iPhone 4S availability in Australia, Canada, France, Germany, Japan and the UK on October 14th, with pre-orders beginning on October 7th.
Apple has major US carrier to its iPhone 4S Lineup that includes AT&T, Verizon, and Sprint. On October 28th, iPhone 4S will be launched for the following countries:
Austria, Belgium, Czech Republic, Denmark, Estonia, Finland, Hungary, Ireland, Italy, Latvia, Liechtenstein, Lithuania, Luxembourg, Mexico, Netherlands, Norway, Singapore, Slovakia, Slovenia, Spain, Sweden, Switzerland.
As far as the price of the device goes, it remains pretty much iPhone 4-ish:
iPhone 4S 16GB – $199 with two-year contract.
iPhone 4S 32GB – $299 with two-year contract.
iPhone 4S 64GB – $399 with two-year contract.
Also, the iPhone 4S includes both GSM and CDMA networks. CDMA iPhone 4S users can roam the world on GSM network and vice versa. This is why the Apple iPhone 4S was called the "world phone."