This should be a big day for all Apple fans because the first betas of iOS 4.2 have just been launched. While this will bring AirPlay and AirPrint to both the iPhone and the iPad, the iPad is perhaps the biggest beneficiary with a host of much needed features now available on the tablet thanks to iOS 4.2.
What's new with Beta iOS4.2 Update
Among the most impressive additions in the iOS 4.2 is AirPrint, which allows you to print wirelessly on a shared printer and also directly with some HP printers. This is however, only possible if your Apple device can multitask, which rules out the iPhone 3G. A new Print Center application has been introduced for this purpose.
The iPhone will get a new icon for Apple's Voice Memos, new modem firmware and a revamped Notes application, thanks to the iOS 4.2.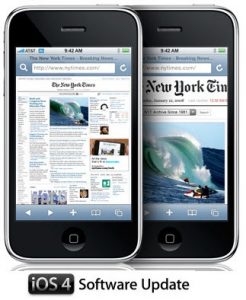 The iOS 4.2 finally brings some very important features that iPhone 4 and iPod Touch currently possess. Among them the most important ones are perhaps the multitasking ability and creation of folders. Now you can easily run applications in the background and manage them individually by tapping the home button twice.
If you drag icons on the home screen of the iPad, so that they get piled on top of each other, a folder gets created automatically. This will allow you to clear up the look of your home screen and also group similar icons for easier access when needed. The best part is that, due to the large size of the tablet's home screen, each folder can be made to hold 20 icons, as opposed to 12 in the iPhone!
A new Spotlight search has also been introduced. You can find this under the General Settings panel and there is an option to categorize search results according to various heads such as Contacts, Apps, Podcasts, Notes, Mail and many more.
There are several new restrictions for you to choose from. For example, you can use EDGE instead of 3G on the iPad to save battery life, if you don't need super fast browsing. You can also regulate changes to Location and mail settings.
You can also turn off Spell Checking on the iPad. A 'large text' option has been added, which can increase font sizes for Mail, Notes and Contacts up to 56pt.
iOS 4.2 beta (iPad)
iOS 4.2 beta (iPhone4)
iOS 4.2 beta (iPhone 3GS)
iOS 4.2 beta (iPhone 3G)
iOS 4.2 beta (iPod touch 4G)
iOS 4.2 beta (iPod touch 3G)
iOS 4.2 beta (iPod touch 2G)
Even though this is a just a beta, the iOS 4.2 will surely make many iPad users happy. Developers can download this pre-release iOS4.2 version by visiting developers.apple.com.