Wondering how to install good-looking custom themes on your iPhone/ iPod touch 3G? Well, look no further because Winterboard is one of the popular and easiest way to get access to customized themes.
For the starters, Winterboard is an app from Saurik (the developer of Cydia) that is solely used to change the visual appearance of iPhone/ iPod touch device. Once installed on your device- winterboard app not only lets you modify the wallpaper and icons, but you are also licensed to install customized dock graphics and have those gleaming lockscreen.
However, you should know that: Winterboard themes are not available in the iTunes store. These are, of course, free but only if you Jailbroke your device. While Apple doesn't recommend users to Jailbreak their device (obviously!) but jailbreaking is legalized in US.
How to Install Winterboard App
Follow the instructions posted here to jailbreak your iPhone/ iPod touch device using Jailbreakme. Once jailbroken, Cydia icon appears on your home screen. Fire up your Cydia app and it looks similar to the screenshots added below.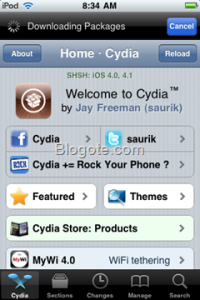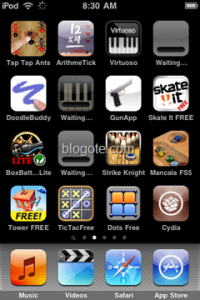 Tap on the 'search' and enter the keyword: Winterboard. This will unfold couple of results- choose winterboard (from cydia/telesphoreo) as shown in the screenshot. Confirm the installation and wait for some time while the installation completes. Reboot the device.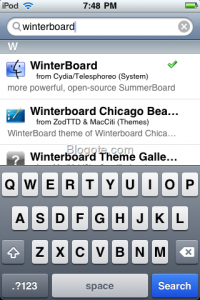 You've installed Winterboard app on your iPhone and iPod touch successfully! Now, the next part of the picture is to install themes from Winterboard app.
Installing Themes From Winterboard App
This should be fairly easy. Launch the Winterboard app from the iPod touch/ iPhone screen  — or you can also go to settings, scroll and look for the winterboard option — then select the themes.
You can also download free winterboard themes (collection of best winterboard themes will be up very soon) by firing up Cydia and visiting the themes section. Here's one of my favorite Winterboard theme: Buuf2 (strange name, I know) can be downloaded for free by searching on Cydia.