3D technology has its fair share of haters who feel that its nothing but hype, but it looks like ViewSonic is planning to bring in3D devices very soon. The company has announced that this 3D deluge will be unveiled at the IFA event in Berlin during the first week of September.
So what does the assortment include? Well, a 720p Viewsonic 3D camcorder with a 3D display, a 3D handheld TV, a 3D still camera and a 3D photo-frame make up the list of eye-catchers at the event. 
The 'affordable' Viewsonic 3D camcorder should easily be the highlight of the lot, with a price tag of just under $300. That it will have an integrated 3D display makes it all the more interesting.
Though very few details are available at the moment, it can be a safe guess that this display will involve a better viewing system, much like the Nintendo 3DS. It will also be interesting to see what the 3D handheld TV has to offer in terms of viewing 3D content on the go.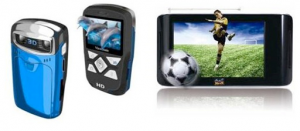 But this is not all that ViewSonic has lined up for you. Apart from the various 3D devices there is also the promise of ViewPad 7, a brand new 7 inch Android tablet. This tablet will have 3G and Wi-Fi along with two cameras for video calling and access to numerous apps. This new entrant to the tablet market will also feature GPS, Bluetooth and USB connectivity.
ViewSonic will also show off an Intel-powered 10-inch tablet which boots both Android and Microsoft mobile OS!
Although various other cutting edge ViewSonic products will be on display at the tech event, the focus will surely be on the 3D stuff and the tablets. ViewSonic has pledged that the company will make all possible efforts to make 3D content accessible and affordable, thus encouraging more early adopters and creating positive buzz around 3D.
How far ViewSonic is able to do that will be easily understood by gauging customer response to its new line of 3D products. Let's hope these devices are good enough and we have more options, because as far as 3D is concerned, choices are scarce right now.