The Flipout by Motorola is an uniquely designed mobile phone by Motorola which is great as a messaging device. The square design of the device is eye catching and it features a full QWERTY keyboard that swivels out from beneath the screen.
The design sets apart the phone and the only other phone sharing a similar design is the Nokia 7705 Twist. This sets it apart from most vanilla mobile phones and the different looks truly do give the device its own uniqueness.
Features and Specification of Motorola Flipout
The device is quite compact at just 2.64 inches wide and long. It is quite handy and sits well in the hand. The keyboard swivel is quite sturdy and the device does not feel top heavy at all once the keyboard is open.
And even though the device is tiny its physical keyboard is surprisingly spacious and comfortable to use. This makes typing very easy and makes it a great messaging device.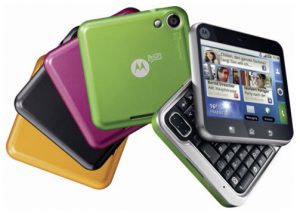 However, the device tries hard to be a smartphone and the diminutive size proves to be its downfall here. Owing to the tiny size, everything in the device from the screen to the interface is very cramped. Plus the tiny screen doesn't let you fully make use of the touchscreen with even basic tasks like scrolling and tapping requiring much more precision than normal.
On the plus side, the device does run Android 2.1 which is as good here. The apps and familiar interfaces are present here as well, so – Android users will find themselves at home. But even though Android lets you add up to 7 homescreens on it, owing to the cramped screen space you will have to be selective in customizing them.
Camera, Social networking and Much more…
The phone also comes with Motoblur which pulls contacts and user information from multiple email addresses and social networking sites and presents it in one list. It works better here than on previous Motorola devices with increased controls present that let you customize it to your own needs.
The device also has a 3.1 mega-pixel camera that performs fairly well. It lets you sync with your gmail account as also POP3 accounts like Yahoo and Hotmail. All mails are presented in a universal mailbox which is quite handy.
Price of Motorola Flipout
All in all the Flipout is great for messaging but as a smartphone it doesn't really cut it owing to its small size. It is however a great looker and is very competitively priced at $350 (Rs. 15,990).
So, if you want a small sized and a cheap Android phone with great looks, you can give the Flipout a shot.