I usually bury my head in the sand when I hear about established sites getting a makeover, but today is different. Today, I am bored.
Of late, one of the successful online media company, Gawker Media, has redesigned its set of weblogs. Out of all the 10 weblogs, the ones that I follow — Lifehacker.com, Kotaku.com, Gizmodo.com, Jalopnik.com and Gawker.com — have been updated with the new design. The new design that not everyone seem to adore.
The overly done redesign has sparked debate among the readers, mostly structured by the negative remarks. The design might have been impressive on the Photoshop, but the outcome is painful — really, the site is practically unusable as it takes forever to load the sidebar.
The right sidebar frame, said to be lighter and faster, fails to load on my browser. I can feel the ruggedness while scrolling through the end of the page, and the design will drive you crazy if you are surfing these sites on a non-Firefox browser — Internet Explorer, that is.
Gizmodo on Internet Explorer: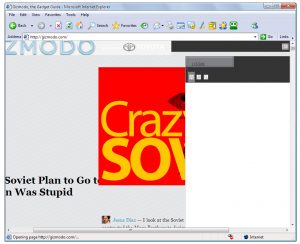 Gizmodo on Opera browser: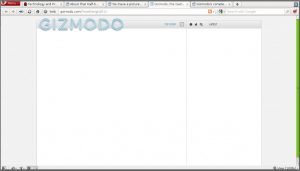 Needless to say, Internet explorer users will quit browsing the Gawker network of sites. Or, they may have to quit using their favorite browser forever.
On the positive side, there are new addition in the design where you can flip through the pages, use keyboard shortcut to scroll through the latest posts and play along with the ajax-like top buttons. Although these Gawker sites have brought the design and functionality down to the level of the content, there are big block of advertisements that you'll notice on the header and in the content part. Well, I have them too.
I'll avoid nagging about the new design (FYI, I am not pulling my hair out of frustration), but this is something that I had to vent it out. As someone points out on the feedback forum, the option to switch to the old design would be a good move. Are you listening, Team Gawker?