Hot news, everyone! Just a couple of hours ago, something big was announced. No, it's not from Microsoft but its Apple, trying to change the world with its new smartphone. Let's keep this short: Apple iPhone 3G was launched at WWDC. The offer comes with a slew of new features, some groundbreaking specs and amazing design. I think I am in love.
Let's see what the iPhone has to offer, its specification and the cost of this smartphone.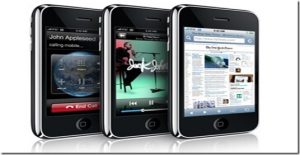 iPhone 3G looks:
Thinner from the side view
White/black plastic on the back
Shiny Metal buttons
Key Specifications of Apple iPhone 3G:

Color availability – Black and white
Version – iPhone 3G 8GB and 16GB
Display – 3.5-inch (480 x 320 pixels)
Audio – Excellent compared to the old version
Standby time – 300 hours
2G talk time – 10 hours
3G talk time – 5 hours
Camera – 2 megapixel
firmware 2.0 – Preinstalled
Additional Specifications of Apple iPhone 3G:

Contact Search is now added to the phonebook
Added Asian languages – Japanese and Chinese.
Provides data rates up to 3 times that of EDGE
Filters YouTube, Safari, iTunes or AppStore for any "explicit content".
iPhone 2.0 software will be available on July 11 as a free software update via iTunes 7.7 or later for all the iPhone customers.
scientific calculator that's activated by turning the phone into landscape mode
iWork document support for PPT (Powerpoint) files
bulk delete/move and saving images from an email to your photo library
Availability of iPhone 3G and market price:
iPhone 3G will be available in 22 countries from 11 July 2008 that includes Australia, Austria, Belgium, Canada, Denmark, Finland, France, Germany, Hong Kong, Ireland, Italy, Japan, Mexico, Netherlands, New Zealand, Norway, Portugal, Spain, Sweden, Switzerland, UK and the US.
Availability will be further expanded to cover up to 70 countries worldwide before the end of the year.
The price is 199$ for 8GB and 299$ for 16GB iPhone 3G.