My Dad is a frustrated photographer. For this Father's Day, I wanted to give something that will make him think that he's got the best skills in the market when it comes to photography. Of course, this is not an easy resolution, considering that my father is already past his prime in his 60s, with weakening eyesight and shaky limbs.
But I love my Dad, and I wanted to get him the very best that money can buy. Earlier this year, I was given a Casio Exilim EX-FH100 by my wife, and though I haven't explored the camera to its limits, I decided to take a hike to try it and see if my Dad would be comfortable with the settings.
My review on Casio Exilim EX-FH100
Good enough? I was just blown away by how awesome my photographs came out! It has a mega-zoom camera feature with a 10X-optical zoom lens which has a range of 24mm to 240mm. Everything I can see could be magnified ten times! This is not bad, considering that I wanted my 64-year-old father to test the product himself.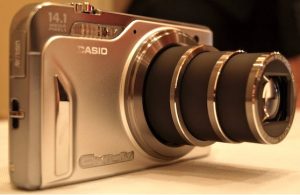 I felt that I was forgetting something as I continued on my hike, when I stopped to take a picture of the setting sun. Then it sunk in: the camera has a long battery life! It would even be more perfect for my Dad who sometimes forgets that he's taking a picture, and had a tendency to keep the camera open though he wasn't shooting anything.
When I went home, I reviewed my photographs with my wife. We were both awed by how the camera was still able to give sharp images with accurate color and exposure despite the zooming. The images were good, though some were a bit fuzzy, perhaps because of my perspiring hand.
I then tried the Casio Exilim video capturing, and was still very much impressed by the product. I shot clips in bright indoors, and in low indoors, and the clips were spot-on representations of what I was aiming for.
Immediately I rushed to the nearest Casio retailer and bought a brand new and unopened unit of Casio Exilim EX-FH100. Yes, that's right! After experiencing its prowess myself, I am sure that my Dad would consider it as a wonderful gift from his only son.