For any internet user, advertisement and pop ups can be annoying. Actually, this is the way webmasters make money to pay off there server bills along with sharing the information online with there readers who maybe interested in viewing the adverts. In fact I have advertisement on this website and I recommend you to download Adblock+ for chrome or Adblock+ for Firefox if these ads are obstructing with the content view.
Also earlier today, Opera 10 Unite browser was released with an excellent interface and browsing experience. Though I am not a big fan of browsers but I love the way Opera builds the browser and brings in quality features with every update. Anyway, getting back to the point – I've find out a way to block ads in Opera 10 browser without much fuss.
Note that there are already couple of adblock and adblocker tools available for Chrome, Safari, Opera browser, I haven't tried them yet – But in anyway, advertisement, banners, JavaScript codes will be blocked in opera using this simple tutorial.
Adblock+ For Opera 10 Browser
Though this isn't a Adblock+ plugin or any addon but it sure does what you need. First of all, open your opera browser and open any webpage (this page) and follow the instructions. Now, click on Tools –> Advanced –> Blocked content which allows you to block webpage content from the website.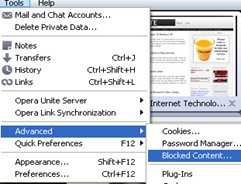 A dialog box appears where you need to Add website or part of website to be blocked. Here is where you will convert your opera into adblocker browsing tool. Just add the following list I've compiled
Block Contextual Ads like Adsense, banners and advertisement
http://pagead2.googlesyndication.com/*
http://ad.*
http://ads.*
http://adserv*
http://imgserv.ad*
http://*.ads.*
http://*/ads/*
http://*banner*
http://*Banner*
http://count*
http://*linkexchange*
http://*.doubleclick.net/*
http://*.fastclick.net/*
http://*.burstnet.com/*
Block Intext inline Advertisement from Website
http://*kontera.com/*
http://*infolinks.com/*

You have to add each of the site manually using Add button as shown above, though this consumes few min but it is well worth the effort. Now close the dialog box and refresh this page again 😀 Magic!