If you are in the habit of typing The as Teh, then auto spell check on Mac OS X usually picks them up and fixes these minor typos instantly. However, sometimes the spell checker struggles to pick up these errors leaving you to correct these words manually.
Sometimes the spell checker goes bonkers.
Especially on Mac OS X Lion, the issue with auto spell check placing the wrong words unnecessarily can lead to frustration in you. So how do we fix this?
One of the easiest solution is to reset the Language and Text on your Mac machine.
Go to System Preferences and navigate to Languages and Text. Click on Text, Input Sources to check for the right settings. You can un-check and recheck the boxes and restart your Mac — this has proven to work in many instances.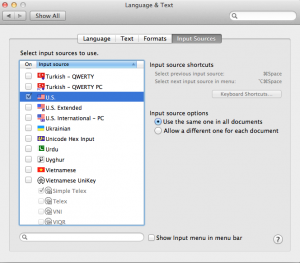 Activate Spell Check in Safari Browser
To turn on the AutoSpell function in Safari, follow this simple procedure:
Launch the Safari browser, place the cursor in the address field, and right-click to initiate a menu.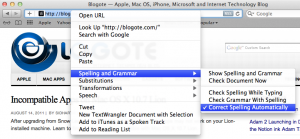 Select Spelling and Grammar, and tick the preferred choice from the list — Check Spelling Automatically, in my case.

Adding Custom List of Words.
If nothing works then not to worry. Here's a good-enough fix to put you out of misery. Every Mac machine has a local dictionary which can be accessed at this locations:
~/Library/Spelling/LocalDictionary
You can open the file using TextEdit, and search for the word which is not picked up by the auto spell. If there's any error in your local dictionary, fix the particular word manually and save the file.
You can also add custom words if there's a need to do so.